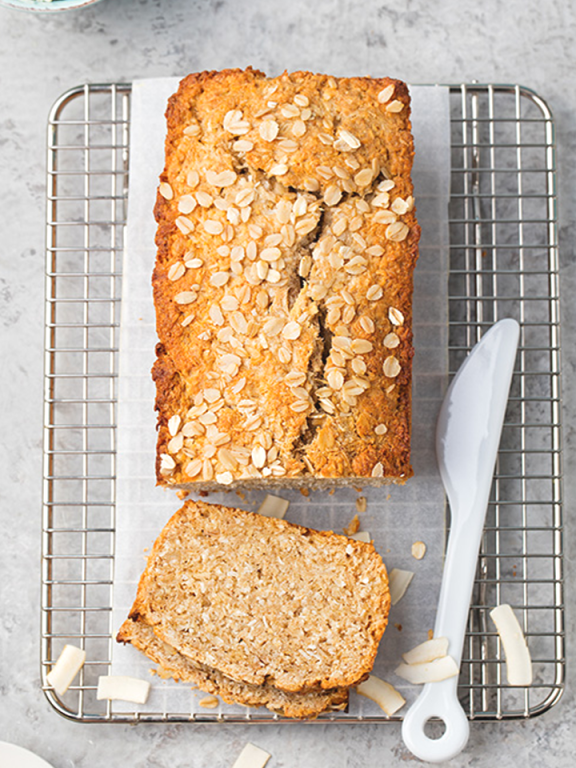 Porridge Bread
Forget going bananas for banana bread - porridge bread has won our heart over! With just a handful of ingredients and a little baking magic, this recipe allows you to sit back, relax, and let your oven work its wonders.
Ingredients
200g

cold leftover porridge

500g

strong white bread flour, plus extra for dusting

1/5 tsp

caster sugar

1 tsp

flaked sea salt

7g

dried yeast

300ml

lukewarm water

30g

oats, to sprinkle

30g
Method
Preheat the oven to 200°C/180°C fan/gas mark 6. Grease and flour a 900g loaf tin.
In a large mixing bowl, combine the leftover porridge, 300ml lukewarm water, bread flour,  sugar, salt, and dried yeast. Mix well to evenly distribute the ingredients. Cover with a damp tea towel and leave to prove for 1 hour.
Transfer the dough to the greased loaf tin and smooth the top with a spatula or the back of a spoon and sprinkle with oats.
Bake in the preheated oven for 45 minutes or until the bread is golden brown and sounds hollow when tapped on the bottom.
Remove the bread from the oven and allow it to cool in the tin for 10 minutes. Then transfer it to a wire rack to cool completely.
Once the bread has cooled, slice and spread 30g of Benecol® buttery taste spread on two slices and enjoy!
Products used in this recipe