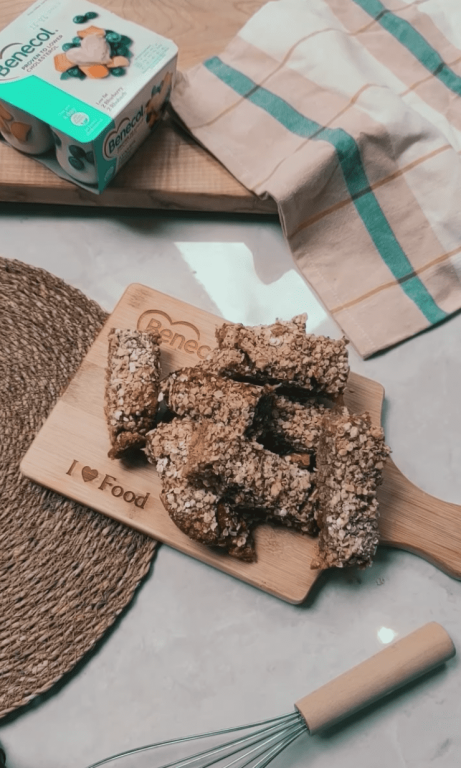 Benecol® yogurt Oat Breakfast Bars
These tasty berry and yogurt breakfast bars will make mornings easier, just grab and go.
Ingredients
200g

Oats

120g

all-purpose flour

8g

brown sugar

1/2 tsp

baking soda

1/4 tsp

salt

100g

unsalted butter, melted

80g

honey

2 pots

140g

small diced berries of your choice

30g

seeds of your choice (flax or pumpkin work well)

1tsp

vanilla extract
Method
Preheat your oven to 175°C. Line a 8×8-inch baking dish with parchment paper.

In a large mixing bowl, combine the oats, flour, brown sugar, baking soda, and salt.

Add the melted butter to the dry ingredients and mix well until crumbly.

Put aside ¼ of the oat mixture for the topping.

In the same bowl, add the Benecol® yogurt, honey, and vanilla extract to the remaining oat mixture. Mix until well combined.

Gently fold in the diced berries into the mixture.

Pour the mixture into the prepared baking dish and spread it evenly.

Sprinkle the reserved oat mixture evenly over the top of the batter and sprinkle the seeds.

Bake in the preheated oven for 30-35 minutes or until golden brown.

Remove from the oven and let it cool completely in the baking dish, once cooled, cut into bars and serve or stir.
Each bar contains approximately 0.5g plant stanols
Plant stanol ester has been shown to lower cholesterol. High cholesterol is a risk factor in the development of coronary heart disease. The beneficial effect has been shown with a daily intake of 1.5-3.0g plant stanols, as part, of a healthy diet and lifestyle.
Products used in this recipe