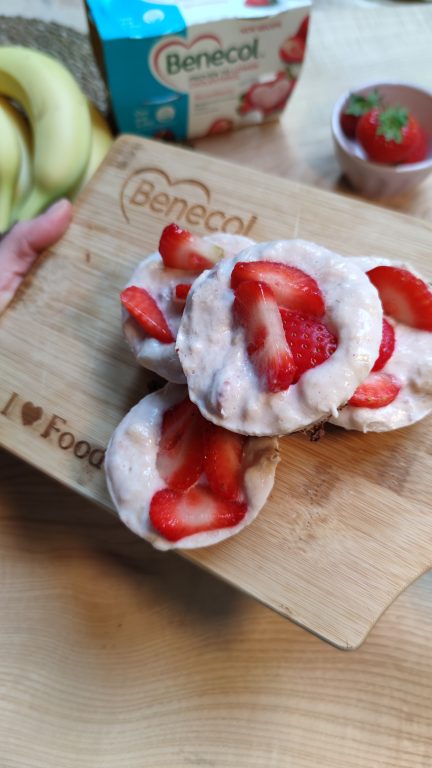 Benecol® After Dinner Cocoa Cups
Are you looking for a healthy and delicious snack that's also easy to make? Then these frozen yogurt cocoa cups are just for you! Filled with Benecol® yogurt and a chocolatey oat base, they're the perfect treat for early mornings or an evening snack.
Ingredients
170g

Oats

3

Bananas

40g

cocoa powder

1-2 tbsp

maple syrup/honey

2 pots

1

Handful of strawberries
Method
For the base:
Mash 2 bananas
Add oats, cacao, and maple syrup and mix
Add mix to muffin tray bases, pressing it down
Bake for 15 mins, remove and let cool
Froyo filling:
Mash the remaining banana and add the Benecol® yogurt. Add a couple of tablespoons on top of the bases, finishing with sliced strawberries.
Freeze for at least two hours. Keep in a Tupperware for a healthy mid-morning or after-dinner treat.
Each bar contains approximately 0.6g plant stanols
Plant stanol ester has been shown to lower cholesterol. High cholesterol is a risk factor in the development of coronary heart disease. The beneficial effect has been shown with a daily intake of 1.5-3.0g plant stanols, as part, of a healthy diet and lifestyle.
Products used in this recipe