'Cook with love, eat for life recipes' – Mediterranean stuffed peppers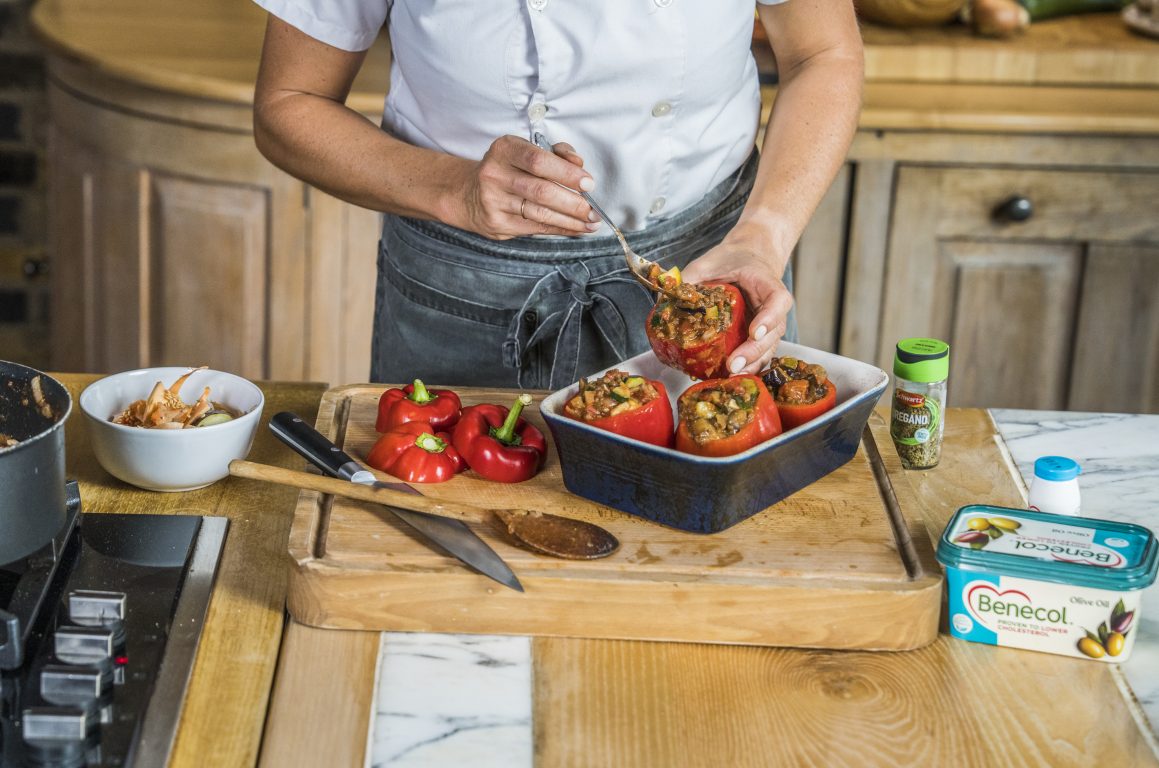 Serves: 4
INGREDIENTS
4 red peppers, tops cut off and seeds removed
1 tbsp vegetable oil
1 onion, finely chopped
2 cloves of garlic, crushed or grated
1 courgette, finely diced
1 small aubergine, finely diced
200g (or half a large) can green lentils, drained and rinsed
400g can chopped tomatoes
1 tsp dried oregano
90g Benecol Olive Spread, softened
Fresh parsley, for garnish
Dressing
1 x 67.5ml bottle Benecol Original Yogurt Drink
½ clove garlic, crushed or grated
1 tbsp finely chopped fresh mint
1 spring onion, white part finely chopped
1½ tbsp extra virgin olive oil
½ lemon, juice only ~1tbsp
METHOD
Preheat your oven to 180°C/160oC Fan/gas 4.
Heat the oil in a large pan over medium heat. Add the onion and sauté until the onion becomes translucent. Add the courgette and aubergine to the pan, and cook until they begin to soften. Add the garlic and cook for another minute. Take off the heat.
Stir in the chickpeas, chopped tomatoes, oregano, and Benecol spread until everything is well combined. Season with freshly ground black pepper.
Stuff each pepper with the vegetable mixture, then place the stuffed peppers in a roasting dish. Cover with foil and bake for 35-40 minutes, or until the peppers are tender.
Make the dressing: place all ingredients in either a personal blender or food processor and blend until well smooth and creamy. Refrigerate until needed. Serve the stuffed peppers hot, drizzled with the dressing and garnished with fresh parsley.
Per serve (416g): 325kcal, 21g fat, 3.3g saturated fat, 22g carbohydrates, 17g sugars, 9.1g fibre, 6.9g protein, 0.33g salt
• Low in saturated fat
This recipe provides 2.1g plant stanol esters per serving (¼ of the recipe – 416g). Plant stanol ester has been shown to lower cholesterol in as little as 2-3 weeks. High cholesterol is a risk factor in the development of coronary heart disease. The beneficial effect has been shown with a daily intake of 1.5-3.0g plant stanols, as part, of a healthy diet and lifestyle.