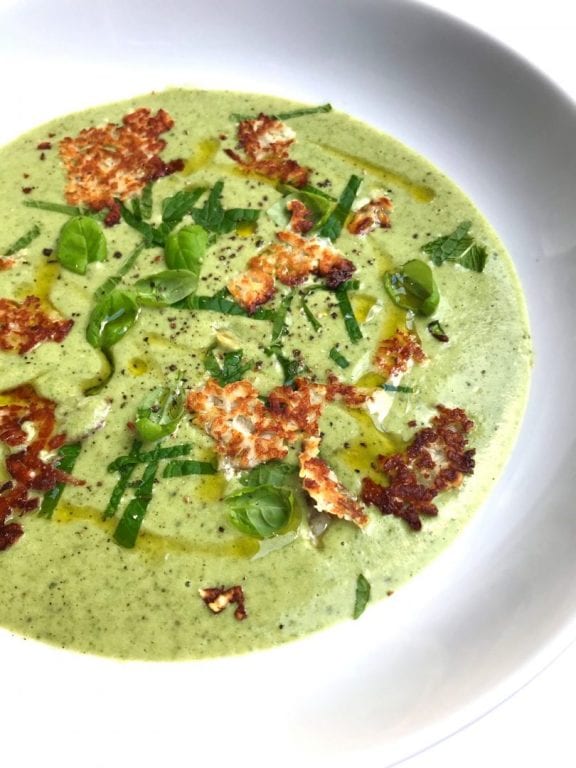 Courgette and spinach soup with halloumi crisp
This lovely vegetarian soup brings a lot of flavour to your day. In addition each portion contains your daily cholesterol lowering effect. Enjoy!
serves 4
Gluten free and vegetarian
Preparation time
Over 30 min
Ingredients
1/2

Onion, diced

1

garlic clove, sliced thinly

500g

courgettes

2 tbsp

olive or rapeseed oil

1

vegetable stock cube

400 ml

water

1

100g

fresh spinach

80g

halloumi

handful

of basil

8

mint leaves

hint

of salt

hint

of black pepper
Method
In a large pan, add 1 tbsp of olive oil, diced onion and a large pinch of salt and fry gently on a low heat until soft and translucent.
Add the garlic, season with black pepper and continue to cook for a couple of minutes.
Slice the courgettes lengthways down the middle and then into 1cm slices. Add 1tbsp of olive oil to the onions, followed by the courgettes and stir to combine all the flavours.
Cook for 5 minutes or until the courgettes start to turn golden and more translucent.
Add the stock cube and 400ml of water and let simmer for 5-10 minutes until all cooked through and tender.
Turn the heat off and add the spinach.
Meanwhile, make the halloumi crisps. Simple grate the halloumi on a cheese grater and sprinkle into a non stick fan. Once golden at the edges, flip with a spatula and cook on the other side for a minute. Transfer onto kitchen paper, it will crisp up as it cools.
Ladle the soup into a blender and add the soft cheese. Blend until smooth.
Ladle into bowls and garnish with basil leaves, chopped mint and halloumi crisp.
Products used in this recipe